A window air conditioning system is an affordable, hassle-free way to cool your home easily. They are designed to cool a single room and can be a good, easy-to-install option if a split AC system is too expensive, or if you simply want to cool a single room rather than the whole house. Small window air conditioners efficiently save space while providing effective cooling. 
Split Hi-Wall Air Conditioner
Get the best-in-class air conditioning experience with a wide range of split air conditioners. Loaded with amazing features, exceptional cooling performance, and great energy-saving technology, air conditioners level up the décor of your place wonderfully. Moreover, they come with various attractive Warranty on Inverter Compressor which means complete peace of mind.
Featuring an elegant design and high-end cooling, Cassette Air Conditioners are the perfect answer to today's cooling needs. Their multi air swing control provides multiple patterns to deliver maximum comfort. They are designed with unique "round" side contour and new LED light location to give your overall decor a nice value addition.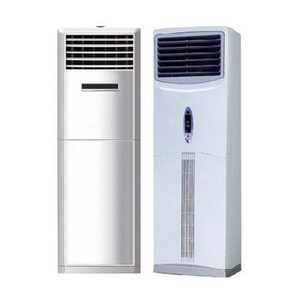 Tower air conditioners are an ideal for those who wish to turn their places into a heaven. Extremely portable, they can be a perfect solution for cooling the area any time. Now enjoy quiet and efficient cooling without getting into complex air conditioner installation. Some of its salient features of this portable air conditioner in India are filter sign, anti-bacterial filter, durable filter, self-diagnosis functionality and many others.
Explore the most comprehensive range of Ducted air conditioning systems. They are perfect for homes, open-plan offices, shops, schools, restaurants and any other big-size spaces that require balanced air distribution around the room. The most practical choice for heating or cooling large air conditioning remains a challenge.
First launched in Japan in 1982, the VRV system has been embraced by the world markets for over three decades. Now, Daikin introduce the next generation VRV X system to reinforce our industry leadership. The system now offers an enhanced line-up to meet an ever widening variety of needs, while improving energy savings, comfort and ease of installation. The VRV X is the most advanced Airconditioning system in the world and is ideal for large and small spaces.
Keep air pollutants at bay with next-generation air purifiers that work silently and ensure that you and your loved get the freshest and healthiest air possible. Air purifiers come with state-of-the-art features such as streamer discharge technology, dust and odour sensor lamps, plasma dust collection, power-saving inverter, turbo mode and lot more. Its 6-stage filtration process guarantees enhance air cleaning all the time.
LCD TVs are gradually being phased out of the market in favor of LED TVs. LED TVs offer better color reproduction and serve for a longer life. LED TVs offer higher refresh rates and contrast ratios than their LCD and CRT counterparts. This gives you a better picture quality and vibrant visuals. LED TVs are much more resilient to screen burn-in which is a common problem with LCD and Plasma panels. 
Experience hassle-free washing of clothes in just a swipe! Powered by innovative technology, Fully Automatic Top Load Washing Machines offer you efficient performance, engineered with smart features like Instawash, Ultra Cube Pulsator, Ultra Water Flow, Zero Pressure Wash, 360 Degree Turbo Jet wash, Direct Drive Motor Machenism,Fuzzy Logic, Bubble Wash, Water Recycle and much more. So drop in your dirty laundry and relax.
A refrigerator is one of our most valuable household appliances. It keeps food and drinks cool, by pushing a liquid refrigerant through a sealed system, which causes it to vaporize, and draw heat out of the fridge. The vaporized refrigerant then is passed through coils outside the fridge (at the back or the bottom). This warms up the vapor, and changes it back into a liquid.
Every day is an opportunity unknown and the beginning of something beautiful. To make the most of your day, all you need is a great energetic start to your morning. A geyser has helped you begin your day with this spurt of refreshing energy for the last 50 years. It's special compact design helps it fit in any urban bath space so that you can enjoy a continuous hot shower. 
Need Help in choosing the best option for yourself ? Don't worry We Are Experts!